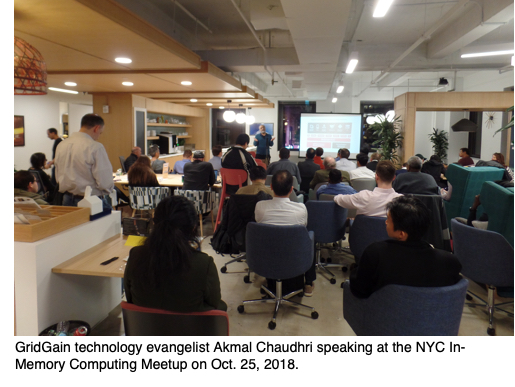 GridGain technology evangelist Akmal Chaudhri is on his way from London to the East Coast for a busy week of meetups to talk about Apache® Ignite™.
Tomorrow he'll speak at the Apache Kafka DC meetup; on Wednesday he'll be speaking at the Apache Kafka ATL Meetup; and then on Thursday he'll be delivering a talk at the NYC In-Memory Computing Meetup. All three meetups are free but please be sure to RSVP to help the organizers best plan for food and drinks.
Tuesday's Meetup of Apache Kafka DC is titled, "Best Practices for Stream Processing with Kafka and Apache Ignite." It runs from 6-8 p.m. at the Dacha Loft (next door to the great Dacha Beer Garden) located at 1600 7th Street NW (on the second floor).
On Wednesday, Akmal will speaking at the Apache Kafka ATL Meetup. This event will take place from 6-9 p.m. at the Atlanta Tech Village Event Center, 3423 Piedmont Road Northeast. Attendees will learn some of the best practices companies have used for making Apache Kafka and Apache Ignite scale.
Making stream processing scale requires making all the components --including messaging, processing, storage -- scale together. During both of his Kafka meetup talks, Akmal will explain:
The integration between Apache Ignite and Kafka and the commercially supported versions, GridGain and Confluent

Examples of how Ignite and Kafka are used together

Recommended approaches for deployment, monitoring and management

Tips and tricks for performance and scalability tuning

Answers to your questions
Akmal will change gears (and airplanes) on Thursday, speaking at the NYC In-Memory Computing Meetup. The event will take place at "Spaces," 1740 Broadway, New York on the 15th floor.
In this presentation, attendees will learn how to achieve the best performance and scale with the new memory-centric approach to distributed architectures.
Akmal will review traditional in-memory and disk-based systems, compare their strengths and weaknesses, cover features such as ACID compliance, SQL compatibility, persistence, replication, security, fault tolerance and more.
Additionally, his talk will cover some of the most common use cases for distributed computing and analyze some large Apache Ignite and GridGain deployments. Finally, attendees will learn how to build the most effective and scalable systems -- borrowing the best of two worlds: disk-first and memory-first approaches.