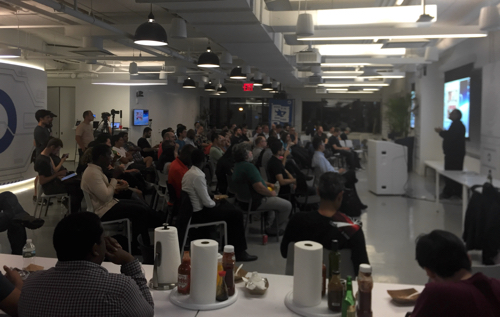 It's an exciting week ahead for three GridGain experts who will be speaking at three meetups this week – two in the San Francisco Bay Area and one more than 5,000 miles away in the heart of London.
Details below – but if you attend and tweet a selfie with one of the GridGain presenters I'll send you an Apache® Ignite™ t-shirt. Also keep reading and learn how to get a FREE ticket to the Oct. 24-25 In-Memory Computing Summit!)
On Oct. 18 Valentin (Val) Kulichenko, lead architect at GridGain, will be presenting at the Silicon Valley Java User Group at Google's campus in Mountain View, Calif.  
He'll introduce the many components of the open-source Apache Ignite. The Java professionals in attendance will learn how to solve some of the most demanding scalability and performance challenges. He will also cover a few typical use cases and work through some code examples.
The following evening, on Oct. 19, Val will be speaking once again – this time alongside GridGain product manager and Apache Ignite PMC chair Denis Magda – at the brand-new Bay Area Apache Ignite Meetup. This will be a joint meetup with our friends at with Data Riders, a Big Data and Cloud Meetup.
It will be an evening of hands-on Apache Ignite tech talks. If you live in the Bay Area, I hope you can attend. Please RSVP here.
Meanwhile, in London, GridGain technology evangelist Akmal Chaudhri will be presenting at the Eurostaff Big Data London Meetup for a talk about better machine learning with Apache Ignite.
Comment below and get a free pass to the IMC Summit!
And if you'll be in the Bay Area next week, post a comment below and I'll send you a promo code good for one FREE admission to the In-Memory Computing Summit North America! The conference happens Oct. 24-25 at the South San Francisco Conference Center. 
An industry-wide event, the IMC Summit focuses on the full range of in-memory computing-related technologies and solutions. Conference attendees include technical decision makers, implementers and developers who make or influence purchasing decisions about in-memory computing, Big Data, Fast Data, IoT and HPC solutions. Held in San Francisco, the IMCS Silicon Valley is a meeting place for in-memory computing users.