In-Memory Computing
In-Memory Computing is characterized by using high-performance, integrated, distributed memory systems to compute and transact on large-scale data sets in real-time, orders of magnitude faster than possible with traditional disk-based or flash technologies.
End-to-End Platform
From high performance computing, streaming and database to Hadoop accelerator, GridGain provides a complete end-to-end infrastructure software stack for low-latency, high performance computing for every category of payloads and data processing requirements. Total integration is further extended with a single unified operations, management and monitoring system.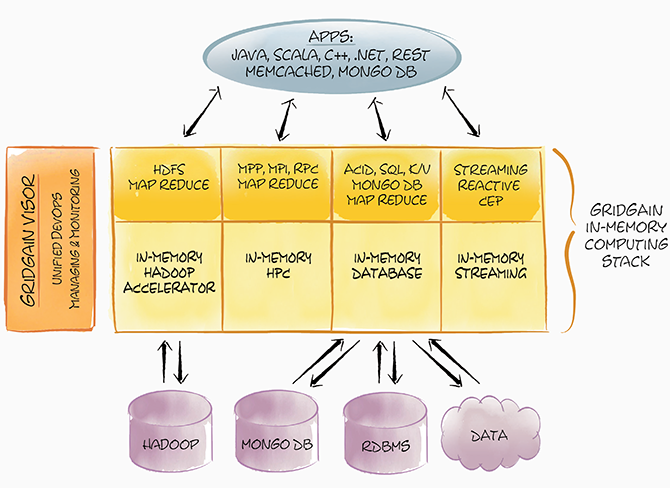 Core Products
GridGain's core products are designed to deliver uncompromised performance by providing developers with a comprehensive set of APIs. Developed for the most demanding use cases, including sub-millisecond SLAs, core platform products allow you to programmatically fine-tune performance on large and super-large topologies with hundreds to thousands of nodes:
| | |
| --- | --- |
| | Natively distributed, ACID transactional, MVCC-based, SQL+NoSQL, in-memory object key-value store. The only in-memory database proven to scale to billions of transactions per second on commodity hardware. |
---
| | |
| --- | --- |
| | Massively distributed processing meets Complex Event Processing (CEP) and Streaming Processing with advanced workflow support, windowing, user-defined indexes and more. |
---
| | |
| --- | --- |
| | Highly scalable distributed framework for parallel High Performance Computing (HPC) including clustering, discovery, resource management, deployment and provisioning. |
Integrated Products
A unique characteristic of GridGain's integrated products is the Plug-n-Play  - "no assembly required" – nature in which they integrate. They deliver all the scalability and performance advantages of GridGain's In-Memory Computing stack with minimal integration and minimal configuration changes to the host products:
| | |
| --- | --- |
| | Combination of In-Memory File System 100% compatible with Hadoop HDFS and In-Memory MapReduce delivering 100x performance increase. Minimal integration, plug-n-play acceleration with any Hadoop distro. |
Management & Monitoring
Every GridGain product comes with GridGain Visor that provides a single unified operations, management and monitoring console across all GridGain products and for any applications and systems built with GridGain.
Learn more about GridGain Visor.