In-Memory Data Platform
GridGain is Java-based middleware for in-memory processing of big data in a distributed environment. It is based on high performance in-memory data platform that integrates world's fastest MapReduce implementation with In-Memory Data Grid technology delivering easy to use and easy to scale software. Using GridGain you can process terabytes of data, on 1000s of nodes in under a second.
GridGain typically resides between business, analytics or BI applications and long term data storage such as RDBMS, ERP or Hadoop HDFS, and provides in-memory data platform for high performance, low latency data processing and computations.
GridGain comes in three editions:
Faster answers from your data
GridGain provides distributed, scalable, in-memory data grid and compute grid middleware products that sit between your application and its data sources (including live data streams, RDBMS, NoSQL data stores, and Hadoop-based systems), helping you achieve orders of magnitude better performance – while scaling to thousands of machines and terabytes of data.
We have developed the world's most popular JVM-based platform for high performance computing, along with the fastest MapReduce available. Developers use GridGain to load all of their important data into an auto-elastic memory grid, and to distribute computations and data processing tasks across any number of machines.
100x faster and more
With a little code, and any combination of public and private cloud resources, GridGain can take any data, from any source, make data instantly accessible to your application, queries and computations, and return results faster – by orders of magnitude.
RAM is readily available now, with 1GB cost < 1$
RAM performs up to 10,000,000 times faster than spinning disks.
Highly scalable and automatically elastic grids across up to 1000s of machines.
Fully distributed processing for much faster applications than traditionally architected systems.
Simple and elegant, yet powerful
Get started in less than 10 minutes, with less than 10 lines of code. GridGain enables the world's shortest but most powerful streaming distributed MapReduce application (which fits on the backs of our own business cards, by the way). With native support for Java, Scala or Groovy, and elegant, functional APIs, GridGain provides a sophisticated distributed programming framework that is truly a joy to use.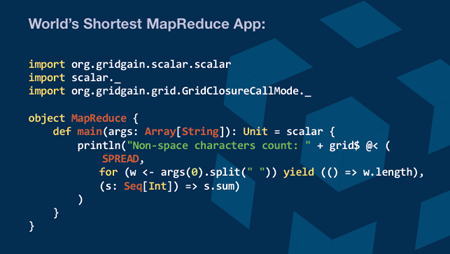 In-memory speed, database reliability
Fully consistent distributed ACID transactions.
Supports SQL queries and JDBC connections.
Fully transactional datacenter replication.
Integrates with virtually any RDBMS, ERP or Hadoop HDFS.
Advanced DevOps monitoring and management tools.
High availability and complete fault tolerance.
Extend SQL, NOSQL and Hadoop without replacing them
Make any NoSQL database fully consistent and ACID compliant.
Add the world's fastest MapReduce on top of your Hadoop infrastructure.
Fuse live data streams with terabytes to petabytes of legacy structured or unstructured data.
Applications and services that are highly available, distributed and scalable.